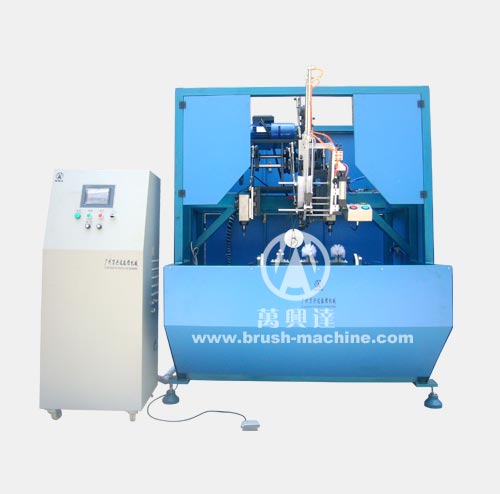 Features of 5-Axis 3-Head Toilet Brush Machine WXD-5A3H02:


1) With two drilling heads and a tufting head, WXD-5A3H02 drills holes and tufts filaments simultaneously. It makes round toilet brushes, half-round toilet brushes, and hockey-type toilet brushes, as long as operator changes grippers. Please note that only a set of grippers is offered together with the machine, free of charge, other extra grippers will be charged.
2) With servo motors, the maximum speed is 5 holes per second.
3) With three grippers holding three toilet brushes on working table. With automatic vacuum cleaner and automatic lubrication system.
4) With 5.4'' touchable screen, the interface is available in various languages, such as Chinese, English, Spain, Russian, etc, as required by customers.
5) With PLC(Programmable Logic Controller), which operates precisely, with excellent stability.
6) Operator sets up programmings under either "Teach-Mode" or "Parameter-Mode". On the screen, operator could insert, delete, adjust, copy, separate and move holes, which is quite simple and convenient.
Technical Parameter for 5-Axis 3-Head Toilet Brush Machine WXD-5A3H02:

Standard Working Area of Working Table
X-axis x Y-axis x Z-axis x A-axis x H-axis = 100mm x 320mm x 100° x 40° x 120mm (Other size could be customized)
Material of Brush Handle
Plastic or wood; with flat, corrugated or fan-shaped surface, or cylindrical shape;
Material of Brush Filaments
PP, nylon, copper wire, stainless steel wire, bristle, horse hair
Length of Filaments (Outside Holes)
10mm - 120mm
Diameter of Brush Filaments
0.08mm - 1.2mm
Diameter of Holes
3mm - 6mm
Colors of Filaments
Either single color or two colors
Maximum Tufting Speed
5 holes per second
Specifications of Machine Body
1.6m(Length) x 1.5m(Width) x 2.1m(Height)
Motor (Power System)
Servo motors
Data Input
Teach-Mode: Operator manually puts tufting head into holes one by one, then presses "Enter" on hand-controller, the position of these holes will be saved by computer one by one. By this way, all data for tufting position has been entered and saved.


---

Parameter-type: Operator manually enters digits for several columns.
Touchable Screen
With 5.4'' touchable monitor controller; interface is in English or other language required by client, operating in dialogue-mode, which is quite simple and easy.
Speed Adjusting
Frequency-conversion stepless-adjustable speed
Qty of Programs Saved
It saves totally 84 programs for making different brushes.
Gross Weight
Around 770KGS
Programming
PLC (Programmable Logic Controller)
Power Supply
Either 1-phase 220V or 3-phase 380V; 50-60Hz; 1KW
Replaceable Grippers
FMS type. Operator could make other kinds of brushes, as long as he changes grippers.
Tufting Method
Staple-type, using round wires
Packing
It'll be packed into wood cases.
Machine Body: 1.62m(Length) x 1.52m(Width) x 2.12m(Height)
Computer Box: 70cm(Length) x 70cm(Width) x 150cm(Height)