Features of 5-Axis 2-Head Push Broom Drilling and Tufting Machine WXD-5A2H04, Staple-Type (Round Wire):

1) This machine is used to make big push brooms. The maximum length of broom block allowed is 600mm; the maximum width of broom block allowed is 100mm. It drills holes and tufts filaments simultaneously.
2)With four grippers holding four push brooms on worktable. Under "Automatic Mode", the drilling head and tufting head continually work, non-stop.
3)With manual lubrication system and automatic vacuum system.
4) With 5.4'' touchable screen, the interface is available in various languages, such as Chinese, English, Spain, Russian, etc, as required by clients.
5) With PLC(Programmable Logic Controller), which operates precisely with excellent stability.
6) The worktable of this broom machine is composed of straight-line guide rails and screw mandrels with high precision, which is quite stable and durable.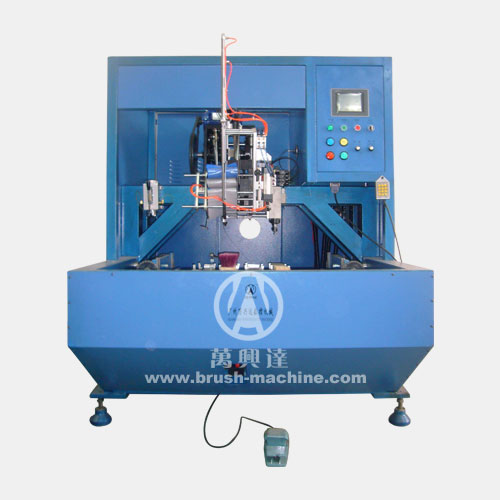 Technical Parameter for 5-Axis 2-Head Push Broom Drilling and Tufting Machine WXD-5A2H04:


Standard Working Area of 5-Axis
X-axis x Y-axis x Z-axis x A-axis x H-axis = 100mm x 600mm x 100° x 40° x 120mm (Other size could be customized)
Material of Broom Base
Plastic, wood; with flat, corrugated or fan-shaped surface
Material of Broom Filaments
PP, PET, PVC, nylon, copper wire, stainless steel wire
Length of Filaments (Outside Holes)
10mm - 120mm
Diameter of Broom Filaments
0.08mm - 1.2mm
Diameter of Holes
3mm - 6mm
Colors of Filaments
Either single color or two colors
Maximum Speed
5 holes per second
Specifications of Machine Body
1.80m (Length) x 1.7m (Width) x 1.9m (Height)
Motor (Power System)
With servo motors.
Data Input for Tufting Positions
Teaching-type: Operator manually puts tufting head into each hole, one by one, the position of these holes will be saved by computer one by one. By this way, all data for tufting position has been entered and saved.


---

Digits-type: Operator manually enters digits(coordinates of X/Y axis) for tufting position.
Touchable Screen
With 5.4'' touchable monitor controller; interface is in English or other language required by client, operating in dialogue-mode, which is quite simple and easy.
Speed Adjusting
Frequency-conversion stepless-adjustable speed
Qty of Programs Saved
It saves totally 30 programs for making different brushes.
Gross Weight
Around 500KGS
Programming
PLC (Programmable Logic Controller)
Power Supply
3-phase 380V, or single-phase 220V, 50-60Hz, 1000W
Replaceable Grippers
Operator could make other kinds of brushes, as long as he changes grippers accordingly.
Tufting Method
Staple-type (using round wires)
Packing
Wood case : 1.83m(L) x 1.73m(W) x 1.97m(H)