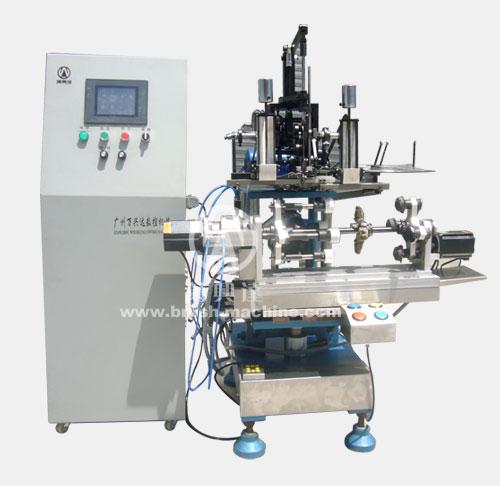 Features of 3-Axis 2-Head Hairbrush Machine WXD-3A2H01(Staple-Type):

1) With a drilling head and a tufting head, this 3-axis 2-head integrated machine is used to make cylindrical hairbrushes with wood or plastic handles, as well as other small roller brushes. It's staple-type, using round wires.

2) With 5.7'' touchable screen, the interface is available in various languages, such as Chinese, English, Spanish, Russian, etc, as required by clients.

3) With Fatek PLC(Programmable Logic Controller), this hairbrush machine operates precisely with excellent stability.

4) The working table of this hairbrush machine is composed of straight-line guide rail and ball screw with high precision, which is quite stable and durable.

5) Generally speaking, the holes on cylindrical hairbrushes are arranged in line, quite averagely and regularly. It's suggested that operator should use "Parameter Mode" to set up a new programming to make those cylindrical hairbrushes, which is very simple and takes just less than a minute.

Under "Parameter Mode", operator just needs to enter data for three columns: A) Holes Per Circle; B) Gap Between Circles; C) Circle Quantity.

6) Consumable spare parts for hairbrush machine WXD-3A2H01 are listed as below: A) bristle-picker; B) tufting needle; C) drilling needle; D) bristle-mouth; E) blade; F) fixed-blade; G) wire-forming block.

7) Please click the below links to see its video demonstrations:

A) Making cylindrical black wood hairbrushes with black filaments;
B) Making hairbrushes on which each hole is tufted with a thick nylon filament and some thin PVC filaments.

Technical Parameter for 3-Axis 2-Head Hairbrush Drilling and Tufting Machine WXD-3A2H01:


Standard Working Area of Working Table
X-axis x Y-axis x Z-axis = 200mm x 360° x 360°
(Other size could be customized)
Material of Hairbrush Handle
Plastic, wood
Material of Hairbrush Filaments
PP, nylon, copper wire, stainless steel wire, boar bristle
Length of Filaments (Outside Holes)
8mm - 120mm
Diameter of Brush Filaments
0.08mm - 1.2mm
Diameter of Holes
2mm - 7mm
Colors of Filaments
Either single color or two colors
Maximum Drilling/Tufting Speed
5 holes per second
Specifications of Machine Body
0.9m(Length) x 0.7m(Width) x 1.5m(Height)
Motor (Power System)
With step-motor by default; also we could use servo-motor instead, if required by clients.
Data Input for Drilling/Tufting Positions
Teaching-type: Operator manually puts tufting head into each hole, one by one, the position of these holes will be saved by computer one by one. By this way, all data for tufting position has been entered and saved.


---

Digits-type: Operator manually enters digits(coordinates of X/Y axis) for tufting position.
Touchable Screen
With 5.4'' touchable monitor controller; interface is in English or other language required by client, operating in dialogue-mode, which is quite simple and easy.
Speed Adjusting
Frequency-conversion stepless-adjustable speed
Qty of Programs Saved
It saves totally 84 programs for making different brushes.
Gross Weight
Around 350KGS
Programming
PLC (Programmable Logic Controller)
Power Supply
3-phase 380V, or single-phase 220V, 50-60Hz, 600W
Replaceable Grippers
With four grippers holding four hairbrushes. Operator could also make other kinds of small roller brushes, as long as he changes grippers.
Tufting Mode
Either staple-type or anchor-type, it's optional
Packing
Wood case for machine body: 103cm x 123cm x 153cm
Wood case for computer box: 61cm x 61cm x 142cm
FAQs About Hairbrush Machine WXD-3A2H01:
1) Can it make hairbrushes with filaments in two colors, please?
| | | |
| --- | --- | --- |
| It can tuft a thick nylon strand together with some thin PVC filaments into a same hole, like this: | Also, it can tuft filaments in single color, like this: | But it cannot tuft filaments in two colors like this (other machine can do): |
| | | |

2) After it just finishes drilling holes on a brush base, can operator take the brush base out of the gripper to have a look, please?

No, never.

After drilling holes, the machine automatically rotates the brush base to be tufted, by this way, the first drilled hole and the first tufted hole is the same one, which is recognized by the computer, thus, it's precise and correct.

If operator takes the brush base out of the gripper after it just finishes drilling holes, he could probably misplace the brush base when putting it back, which might cause the result that the first drilled hole and the first tufted hole is not the same one, thus, the machine cannot tuft filaments into holes any more, because the positions of all the holes have been changed.


Others:
1) Pls click here to see another 3-axis hairbrush planting machine;
2) Pls click here to see how to clean a hairbrush;
3) Pls click here to see some basic knowledge of hairbrush;