Mr M. Pattanayoot and Mr S. Sombat were from Thailand, they came to our factory to learn the machine on Mar.28, 2011.

They placed order for a long-roller machine in Aug 2010. In fact the machine was already finished in Oct 2010, but they were not available to come until this year.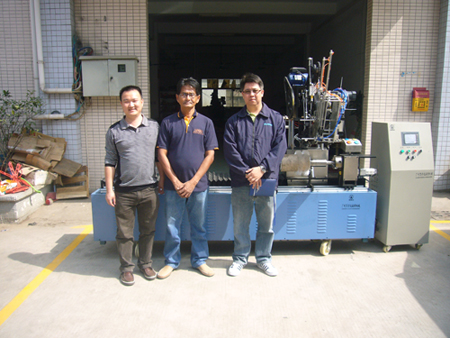 Left: Our Purchasing Manager, Mr Yang

Middle: Thai engineer, Mr S. Sombat

Right: Thai customer, Mr M. Pattanayoot
Unfortunately they didn't run the machine successfully on Mar.28, as we took some time to change the spare parts, so that they could make a sample brush with 5.5mm holes, instead of 8.5mm holes mentioned previously.

Fortunately Mr S. Sombat himself was a professional mechanical engineer, he learnt the mechanical parts very quickly. Under the guidance of Mr Huang (our technician), he managed to detach and assemble the relevant spare parts within just 30 minutes, that's so great!

While Mr M. Pattanayoot was a gentleman and very friendly. Every time we finished meal in the restaurant, he just rushed to pay the bill ... :)

Finally they finished the "course" in our workshop and went back to Thailand by plane on the evening of Mar.31, 2011. Cordially we wish to meet them again in the coming future.