Warren, a very humorous man, came from England, was one of our most important customers in UK. He came to visit us for the third time on Mar.07, 2011.

During the stay, he didn't only check his machines, but also enjoyed the moment with us, just like we had been good friends since long long ago. And, actually, yes, we did become friends since 8 months ago. Previously he had already came to us for another two times, separately on Jul.26, 2010 and Dec.11, 2010.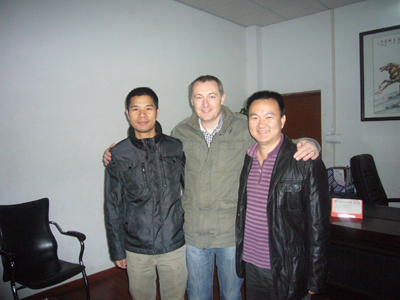 Left: Our Chief Engineer, Mr Chen

Middle: UK Customer, Warren

Right: Our Purchasing Manager, Mr Yang
Warren himself was a professional engineer for wood processing machines in his own company, so, he learnt very quickly and became quite familiar with our machines just after several conversations with our Chief Engineer, Mr Chen, who later said Warren was indeed a genius and he just enjoyed the conversations with him and appreciated the ideas he had offered!

After finishing several adjustments on his long-roller machine and 1-axis 2-head machine, Warren was satisfied and decided to leave on Mar.09, 2011.

Wish him a very smooth journey! And we cordially hope the amicable business relationship between us will last forever!