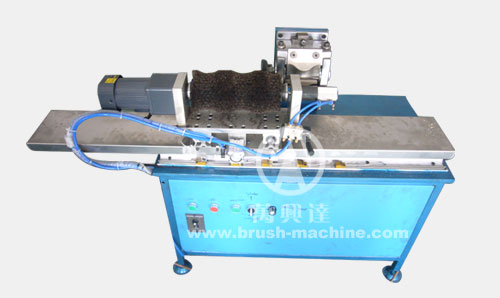 Technical Information for Corrugated-Shape Brush Trimmer WXD-TM400
1) Item Number: WXD-TM400
2) Power Input: 0.55KW
3) Voltage: either single-phase 220V or 3-Phase 380V, it's optional, ±10% is allowed.
4) Motor Rotation: 1400RMP
5) Rated Frequency: 50Hz
6) Specification: 1.5m(Length) x 0.8m(Width) x 1m(Height); other size could be customized.
7) Maximum Length of Brush Allowed: 60cm; other size could be customized.
8) Daily Continuous Working Time: 24Hours
9) Gross Weight: 110KGS
10) Packing: Wood Case
Overview:

1) WXD-TM400 is used to trim cylindrical brushes to be corrugated. The maximum length of cylindrical brush is 1m; other size could be customized.
2) The corrugated-shape trimming head is replaceable. Operator could replace the corrugated-shape trimming head with a cylindrical-shape trimming head, then, the machine could be used to flatten the bristle end for cylindrical brushes.
3) The blades are made of imported steel with excellent tenacity, being abrasion-resistant. The blade could rotate in both clockwise and counterclockwise directions, which is controlled by the switch installed aside. Please keep in mind that operator should put nothing on the blade before it starts rotating.
4) This machine trims brushes with filaments made of plastic, PP, PVC, PET, bristle, horse hair, etc, the diameter of filaments should be not bigger than 1.2mm.
5) It is not allowed to trim brushes with metal wires.
Maintenance:

1) Operator should keep the trimming machine clean, and often spray the blades with anti-rust agent.
2) If the blades become blunt, please smear the blades with diamond paste, and then switch it on to make the blades rotate in counterclockwise direction for 5 to 10 minutes. Please note that diamond paste should be wiped out thoroughly after grinding.
3) Operator should regularly check each part to see whether there are loose screws or not, and please make sure to tighten it if he finds a loose one, so as to avoid any accident.
4) If the trimming machine is always deposited in a humid environment, please check whether there is leakage of electricity around the motor before usage. If operator feels leakage of electricity, please make sure to dry it thoroughly before running, so as to keep safe.