Mr Igor Fedorpov came from Kazakhstan, and was one of our very very very old customers. His first business inquiry was sent in Mar 2010, which was already three years and a half ago.

After longperiod negotiation, Mr Igor finally started business with us by a 2-axis 2-head machine for making wood strip brushes.

With amiable smile, Mr Igor came to our factory to start training on July 29, 2013.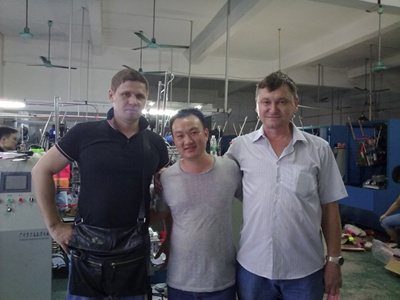 Left: Mr Vitaliy (Mr Igor's agent)

Middle: Our Boss, Mr Yang

Right: Mr Igor Fedorpov, Kazakhstan Customer
He used semi-automatic machines before and had certain experience in mechanical parts, so, he was quite optimistic and finished the so-called "training" within only half a day in our workshop, which did make our technicians surprised!

After sightseeing in Guangzhou, Mr Igor left for Kazakhstan on Aug 03, 2013. Sincerely we wish the amiable friend a very nice journey!