Egyptian customers, Mr Ahmed Afifi, Mr Hani and Mr Hazem came to our factory for training on Sep 15, 2012.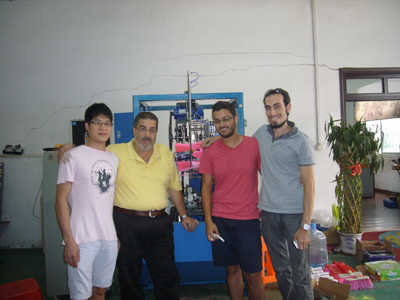 From Left To Right:

Technician Wu, Mr Ahmed Afifi, Mr Hani, Mr Hazem
Mr Ahmed was one of our very very very old customers, he started first inquiry about our machines in Jun 2009 and came to visit us for the first time in Jun 2012.

Mr Hani, son of Mr Ahmed, was a clever boy. Firstly he finished training for 4-axis broom tufting machine quickly and high-effectively, and then he worked as the teacher and taught his father patiently in Arabic.

Mr Hazem, a professional dealer of machines in Egyptian market, also a strong translator from Chinese to Arabic.

The training was finished on Sep 20, 2012.