Two of China's biggest banks have reported big increases in profits for the first half of the year.

Industrial & Commercial Bank of China, currently the world's biggest bank, said net profits totalled 84.6bn yuan ($12.4bn; £8bn), up 27% on last year.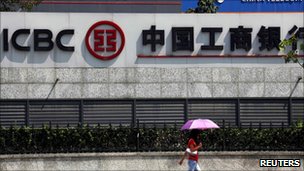 State-owned Bank of China also reported profits up 27% to 52bn yuan, thanks to a big increase in lending.

Chinese banks were encouraged to lend more to individuals and businesses last year to stimulate the economy.

ICBC said its income from interest paid on loans was 23.5% higher in the first half of this year, while Bank of China's interest income was up 23%.

The health of the Chinese banking sector is in stark contrast to the picture in much of Europe, where banks are still recovering from the global financial crisis.

But analysts warned that Chinese banks could still be hit if some of the loans made turned bad.

---- excerpted from BBC